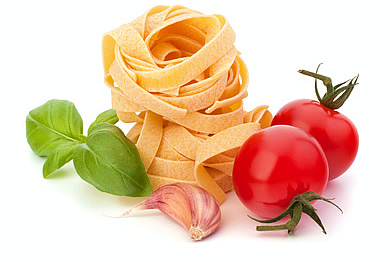 We invite you to join us for a unique Italian experience as you learn how to prepare some of the typical regional dishes of Sorrento and Campania.  Our cooking classes take place at Villa Ida, where we welcome you with some freshly squeezed orange juice, a slice of delicate lemon flavoured plum-cake and a Neapolitan coffee, that you can enjoy by the pool most of the year or in winter, inside by the fireplace.
Afterwards, you will move on to the kitchen area to begin your cooking lesson in preparing some traditional Italian dishes, with a particular emphasis on Neapolitan recipes. Although the menus vary according to season, you will begin with an appetizer, continue with a first and second course, and end with a delicious dessert, all prepared by you and others in your cooking classes. The recipes will be clearly demonstrated in a warm and relaxed atmosphere by "Zia Angela", who will share with you the secrets of preparing  typical local cuisine as she learned from her mother "Ida".
Menus are selected that reflect the freshest ingredients of the season, and the vegetables featured in the menus are produced at "Tenuta Mastro Giacomo" by Zia Angela's husband.  Typical Neapolitan music will set the tone for your cooking classes.
The cooking classes last approximately 3 hours, during which you will take a break to visit the family's wine cellar and taste some uniquely handcrafted, homemade wines and local cheeses. "Charlie" the man behind the production of this wine, will explain the various phases of his wine production.  Then, carafes will be filled with a selection of these wines that you will enjoy while continuing you're your lessons and with your lunch.
At the end of your cooking lesson, you will enjoy the fruits of your labor and dine on all that you created, either by the pool, under the" Pergolato" or in the cozy "winter garden" by a warm fire. If you wish to purchase a memento of your experience, there is time to shop for some specially created items such as an apron, typical ceramic pieces or perhaps some bottles of homemade Villa Ida wine.
Cooking classes can be held in the morning from 9.30 AM to 2.00 PM or in the afternoon from 4.00pm to 8.00pm
Minimum: 2 people; Maximum- 20 people
An interpreter / hostess will assist all guests during the cooking lesson and will serve lunch at the end of the class.
Detailed cooking lessons program:
9.30 AM: Arrival at Villa Ida with welcome refreshments (fresh orange juice and plum-cake)
10.00 AM: Begin preparations for all courses on the menu.
11.30 AM: Visit the wine cellar at Villa Ida, tasting some homemade wine with local  cheeses.
1.00 PM: Lunch/Dinner by the pool or under the Pergolato to enjoy the various courses that you have personally prepared.